A few days back I published a picture and a new assignment for the Bay Area Writers' Group (we meet at the Chesterfield Libarary every other Thursday...this Thursday). The assignment was to write a one act play of about a thousand words. It had to take place in the green room pictured. One of my online friends from another state decided to accept the challenge. You can find the results of her effort by following this link:
http://buckatunnaqueen.blogspot.com/. Also, Mr. Jon Zeck's assignment can be found here: http://jon-zech-short-fiction.blogspot.com/
What follows though is my effort:
The Green Room: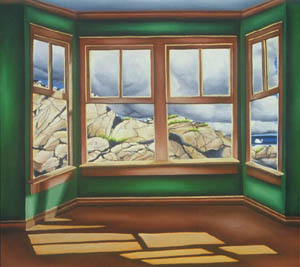 A green room, sparsely designed with chair, couch, and table. A window overlooks the ocean. Offstage we hear the sounds of the seashore: a gentle washing of waves, the occasional gull. Two women enter from stage left: Nancy: a nineteen year old girl with an athletic build and a self-confident air. Carol: An forty year old version of he daughter, with a bit more to the hips and a conservative cut to her clothing.

Nancy: (looking around) I can't believe we came all the way up here. Like what? He's not going to know this is where we are?

Carol: We should have stopped at the market in town. (she takes tosses her keys onto the table)

Nancy: This is stupid. You're just going to end up calling him. Or he'll call you. You're going back.

Carol: Not this time.

Nancy: Right

Carol: I said 'Not this time'!

Nancy: You always say that and you always go back. (She walks to the window and looks out. A silence settles between them. She turns and heads back stage left, scooping the keys from the table as she goes.) I'm going to the car and get my stuff.


The telephone rings. Both of them stare at it. Carol slowly goes to lift the receiver from the cradle but before she can, Nancy swoops in and picks it up.

Nancy: (into the phone) Yeah? Yeah….No, we're not coming back. She doesn't want to talk to you. No, Dad. No. Don't talk to me that way, I'm not afraid of you. I don't care. No, I'm not putting her on. No. She doesn't want to talk to you. You're an asshole. I'm not listening anymore. We're not afraid of you.(she hangs up)

Carol: (sounding frightened)You shouldn't have done that.

Nancy: He's royally pissed now. He says when he gets his hands on us, he's going to hurt us both. He's on his way up here, you know. He was calling from his cell phone.

Carol: Dear God.

Nancy: You should try standing up to him, you might like it.

Carol: You had no right to do what you just did.
Nancy. It's my life, too.

Carol: We need to get out of here. He'll put us both in the hospital this time.

Nancy: Not me.

Carol: You think he won't hit you?

Nancy: He can try.

Carol: You're going to get us both killed. Give me the keys. We need to get the hell out of here. There's no saying where he was calling from.

Nancy: I'm not running away.

Carol: He's going to do something horrible.

Nancy: Then I guess you better do something to get ready for him.

Carol: What are we supposed to do? You and me? We better get out of here. He'll kill us. He'll kill me this time.

Nancy: (strolling by the window) You can see the road from here. You'll be able to see him a good five minutes ahead of time.

Carol: And what good will that do?

Nancy: (She opens the window and the sound of the ocean and the gulls is louder. Her back is to the audience. We can see her jerk her arm)

Carol: (with concern) What did you just do?

Nancy: I just threw your keys out.

Carol: (raising her voice in panic) You had no right!

Nancy: I had every right. Just because you're not taking control of your life doesn't mean I shouldn't take it control of mine. You're the one who put me in this situation. We're not running.

Carol: (angry) I put you in this situation? What did I do? You're just like him. You're just like him.

Nancy: (calmly) Yeah? Then you're really screwed, aren't you? (she turns back to the window and watches the shore)

Carol: (She picks up the telephone and dials.) This is Carol Murtry. I have a cottage on the shoreline. Yes. Number 189. North of that. I need help. I'm stranded here with my daughter. My husband is coming and he's threatened us. He has a history of violence. Yes, I'll hold.

Nancy: Better tell them to hurry up, then. I can see Daddy's car.

Carol :(starting to lose it) He's coming. He'll be here any minute. Hello? Hello? Hello?

Nancy: (stepping away from the window) I'm going into the kitchen to get a knife.

Carol: (still holding the phone) We've got to get out of here now.

Nancy: We don't have car keys (she exits stage right)

Carol: (talking into the phone) Yes. I'm here. My husband's violent. He's had a history of it. He's been arrested before. I need someone here now. Right away. I can't start my car. I'm stuck here with my little girl. I need someone now! Not in twenty minutes from now! He'll be here any second!

(She gasps as Nancy enters from stage right with a butcher knife in her hand. The telephone falls from her as she rushes forward. )

Give me that!

Nancy: Not on your life.

Carol: You're going to get hurt.

Nancy:(Nancy walks to the door and stands to one side of it.) You stand there. He'll see you and come into the room. He won't notice me. As soon as walks by, I'll get him from behind.

Carol: You're crazy.

(Sound of a car approaching. The engine shuts off.)

Carol: I'll do it.

Nancy: What?

Carol: Give me the knife and I'll do it.

Nancy: You won't.

Carol: We don't have time to argue. Give it to me.

Nancy: (suspiciously) You'll do it?

Carol: I'll do it. I'll have to. I'll have to.

(Mother and daughter stare at one another)

Carol: For Gods' sake, we don't have time to argue. Give me the knife.
(The sound of a car door opening and closing)

Nancy: Stab him hard. Don't fool around. And don't just do it once. Stab him and keep stabbing him. (Nancy hands her the weapon)


Carol: Oh God (she looks at the knife and steps back)

Nancy: Don't stand there like that. Hide the knife. Get ready for it. Wait. I'll go outside and stall. I'll apologize to him for talking the way I did. He'll believe me. I'll divert his attention. Stab him when he comes through the door. I'll get his attention and make sure he comes in first.

Carol: (She appears stunned. She nods dumbly.)

Nancy: Okay. (she quickly touches her hand to her mother's face and moves quickly through the door. We hear her offstage) Daddy!

(Carol walks to the window and tosses out the knife. She turns and comes back to the couch. She sits. The lights dim until she is illuminated by a pale spotlight. She remains unmoving, her face melting from despair into blankness. The spotlight fades.)

End.