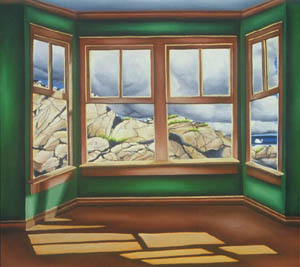 Okay...so I seemed to be the only one in the Bay Area Writers' group who did the last assignment. Actually at the last meeting the Curmudgeons were the only ones present. The Curmudgeons is a name I have given to the three old males, myself included in this dubious triad, who have made up the nucleus of this writers group for the last four years or so. Don't get me wrong, there are other members. But The Curmudgeons are always there. Maybe it's because the three of us are the only ones who can tolerate one another. Maybe it's because our wives are having affairs every other Thursday.
If you want to see one of the three, go to his blog (check the link section for crotchety old Jon Zech).
Anyway, that being said, here is the new assignment, due at the next meeting, November 2nd.
No more than 1000 words: write about two people meeting after a traumatic event. The twist? Your manuscript must be in the form of a one act play, bear the title: "The Green Room", and be set in the room pictured above.Good luck.